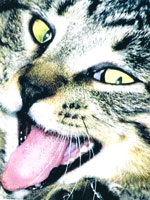 Stockton Hill Animal Hospital's Pet of the Month is B.B. Cat, from Kingman, AZ!
B.B. Cat is a domestic short hair male and is 11 years old.
B.B. Cat's owner is R.E. Eatmon.
Think your pet has what it takes to be the pet of the month? Bring in a picture or email a picture of your pet to us @ email@stocktonhillah.com!
The Stockton Hill Animal Hospital Pet of the Month is chosen at the end of each month. Winners will have their picture placed on our website and will receive a goodie bag, free bath and free toe nail trim!